The Missing Piece of the Precision Agriculture Puzzle - Investment Opportunity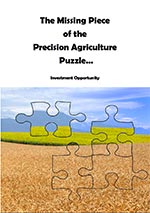 Next Instruments is a high technology company with a small footprint in a huge worldwide market. With its unique CropScan and CropNet systems, Next Instruments is well-positioned to rapidly increase revenues through the expansion of its sales and marketing presence in the Americas, Europe and Asia.

Investor funds will be used to establish sales offices in these major markets and to appoint sales and technical personnel to drive our business through a worldwide dealer network.
These staff will work with the regional dealers in Europe, USA, South America, Canada and Asia. They will strive to setup OEM accounts for our products into the large Ag Equipment manufacturers whereby we can sell lager volumes. They will provide ongoing support to these accounts. They will participate at major agricultural and food conferences and exhibitions around the world. They will provide support to the regional dealers in the form of technical assistance, maintenance support and applications advice. They will hold stock of both analysers and spares to ensure that the dealers have a high level of support for their clients.
An important consideration for investors is that investors funds are not being sought for high risk R&D but for the sales and marketing of our products throughout the world. The CropScan and CropNet hardware and computer software have already been developed.
As such, this Investment Offering is considered low risk with a strong upside potential.